Luxury Vinyl Flooring for Kitchens and Bathrooms
Carpet One Floor & Home in Ocala and The Villages is your local expert when it comes to kitchen and bathroom flooring. You can come to us to help you get your next home project started and finished. Flooring tends to be one of the major changes homeowners make when updating their homes, and we have you covered. With luxury vinyl flooring, you won't have to sacrifice style for function when it comes to your floors. You can have beautiful looking flooring through your home without the worry of accidental damage.
Visit our showrooms in Ocala and Lady Lake.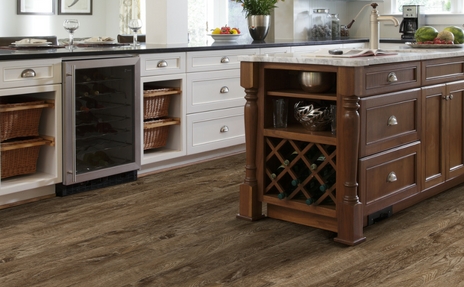 Flooring Ideas for Kitchen and Bathrooms
For the most part, luxury vinyl is water resistant, but there are products that are completely waterproof. Waterproof luxury vinyl flooring is the ultimate choice for your kitchen or bathroom. Waterproof luxury vinyl tiles are commonly installed kitchens and bathrooms because it stops moisture from penetrating the floor and is a great alternative to traditional tile flooring. Your kitchen and bathroom see moisture on a daily basis, so your floors should be able to protect themselves. Luxury vinyl tiles are just as easy to clean as traditional tile, so accidentally spilling food or water is not an issue.
Luxury vinyl planks are also come in waterproof options, and feature beautiful realistic wood visuals and textures. With waterproof luxury vinyl you can have the look and feel of authentic wood flooring in your kitchen or bathroom, but not have to worry about ruining it due to accidental spills. You also do not have to worry about vinyl floors expanding or contracting due to changes in humidity. So, go ahead and bring all your friends and family over to enjoy your new floors, without having to worry about accidental spills and messes.
If you want to learn more about the possibilities with luxury vinyl flooring in your kitchen or bathroom, then visit our showrooms or give us a call!