Is Luxury Vinyl Flooring Waterproof?
As your locally owned flooring store here in Florida, we know the humidity fluctuates on a daily basis, and you need a floor that can keep up with that. Regardless if you have pets at home or just need a floor that is easy to care for, you should consider installing waterproof luxury vinyl flooring in your home. Our experts at Carpet One Floor & Home in Ocala and The Villages are here to help you design your space around your new floors. Our flooring experts can guide you through our collection of luxury vinyl and explain the benefits of why you need waterproof flooring in your home.
We have locations in Ocala and Lady Lake.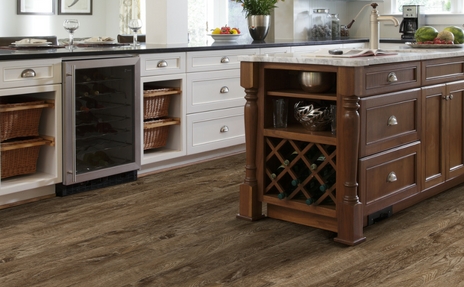 Why Is Luxury Vinyl Waterproof?
Most luxury vinyl floors feature some level of moisture resistance. Moisture resistance means the floors can repel moisture from the surface but eventually the core will soak up any moisture. This can cause moisture to be trapped and soak through the floor itself to your subfloor. Water resistant floors are a good option for rooms in your home that you are in often so you do not miss an accidental spill.
A waterproof floor forms a watertight barrier between the surface of your floor and your subfloor, and can stop moisture right at its core. Manufacturers use durable materials like limestone dust and PVC composites in the flooring to make the core. This allows water to sit and either dry up or be wiped up. This waterproof core means your floors will not expand or warp due to moisture either.
Where Can You Install Waterproof Flooring?
You can install waterproof flooring anywhere in your home. That means you can have wood or tile look flooring installed in rooms like your basement, mudroom, kitchen and even bathroom. Waterproof luxury vinyl is made to look and feel just like real hardwood or stone, so you do not have to sacrifice function for style. Remember though, just because your flooring is waterproof that does not mean your subfloor is, but we can help you prevent any unwanted damage.